Are your hormones, your metabolism, or other medical issues causing weight gain? To find out, check all that apply:
_____ Even when I diet and exercise religiously, I can't lose a pound (or I even GAIN weight)!
_____ I just had a baby, and I can't lose weight no matter what I do!
_____ I'm 40+ and what used to work for me for weight loss isn't making a dent!
_____ I'm often too tired to exercise!
_____ I'm hungry all the time and I never feel full!
_____ I can't seem to build—or even maintain—muscle anymore!
_____ NOTHING I'm doing to lose weight seems to work!
If you checked any of the above statements, hormonal or metabolic imbalances may be making it difficult—or even impossible—for you to lose weight.
There are a number of common culprits that can easily sabotage even the most rigorous diet and exercise plan. For example:
Hormone Imbalances: Hormones—the chemical messengers that drive much of your metabolism, digestion, hunger, and feeling of fullness—are often at the root of why you can't lose weight. Some hormone imbalances that get in the way include your thyroid, your adrenals, and your sex hormones, such as progesterone and estrogen in women, and testosterone in men.
Insulin and Leptin Resistance: When your body stops paying attention to hormones, you can develop resistance. Insulin resistance makes blood sugar rise and causes weight gain—and Type 2 Diabetes. Leptin resistance makes your body very effective at storing fat—and less able to burn it…making weight loss that much harder.
Inflammation: When your gut is inflamed, it's hard to get nutrients from your food, and even harder to burn fat and lose weight.
Nutritional Deficiencies: Being deficient in common nutrients like iron, Vitamin B-12, and Vitamin D, can make it nearly impossible to lose weight.
Hormonal and metabolic weight gain issues are more likely to develop: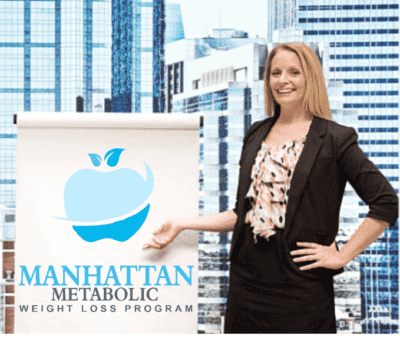 During periods of hormonal change in women, such as after childbirth, during perimenopause (i.e., after age 40), and after menopause, after age 50
In men, as sex hormones drop, typically after 50
When you don't eat a healthy, balanced diet
When you live a Type A, high-stress lifestyle
When you have ongoing chronic stress, such as job, relationship, or family stress
Our Approach to Hormonal and Metabolic Weight Gain
Manhattan Metabolic Metabolism Weight Loss Program, a comprehensive medically-sound approach to help you get a fast, efficient, and super-charged "Manhattan Metabolism." Our program finds—and eliminates–the common but often overlooked challenges that are getting in the way of ability to lose weight.
You will work with David Borenstein, MD, New York's leading integrative and functional medicine physician. Dr. Borenstein is an expert on metabolic and hormonal health.
Your Manhattan Metabolism Weight Loss Action Plan and Results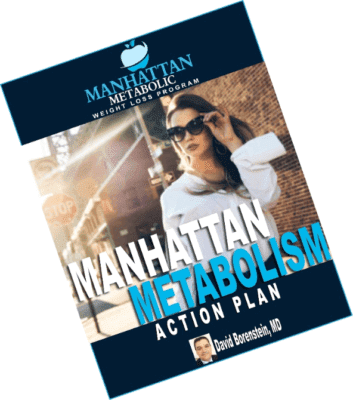 The Manhattan Metabolic Weight Loss Program includes integrative treatment that resolves your weight gain by identifying and treating hormonal imbalances, calming inflammation, overcoming resistance issues, and addressing your nutrient deficiencies.
Once we've worked with you:
Your diet and exercise program will finally work!
You won't have to live on 600 calories a day, or a diet of air and lettuce!
You'll have a healthy metabolism!
You'll feel and look great!
METABOLIC WEIGHT LOSS CHECKLIST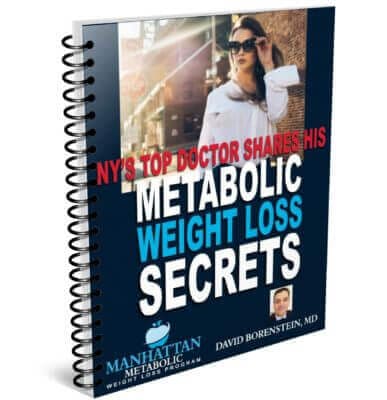 Do you want to know which tests should be included in an effective metabolic weight loss program? Do you want to know some of the practical things you can start doing TODAY—before you even formally start a metabolic weight loss program—to jumpstart your successful weight loss effort?
Your Next Steps
Get the details now on our Manhattan Metabolic Weight Loss Program. Enter your email address below for your free guide! (No spam, ever!)
Or, if you're ready to get started, call ☎ (212) 262-2412 to make an appointment, or contact us here online.