What is Physical Medicine & Rehabilitation?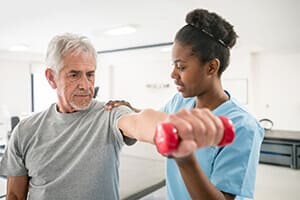 Physical medicine and rehabilitation (PM&R) is that branch of healthcare that focuses on the prevention, diagnosis, and treatment of disorders that result in temporary or permanent physical impairment. While PM&R can be used in a wide range of medical conditions, it is most commonly applied to problems relating to the bones, muscles, and nerves. PM&R involves the use of medications, massage, therapeutic exercises, specialized prosthetics, braces, and assistive devices.
There are two distinct aspects to PM&R. Physical medicine treats a range of problems–from sore backs to brain and spinal injuries–with the aim of reducing pain and discomfort while improving performance and movement without surgery. Rehabilitation deals with enabling a patient to recover physical function after surgery, illness, or injury.
Through PM&R, Manhattan Integrative Medicine offers holistic treatments, care, and recovery from conditions that range from major brain injury to muscles and bone conditions to simple back pain.
Conditions Treated with Physical Medicine & Rehabilitation
Physical Medicine and Rehabilitation deal with many forms of disability affecting any part of the body. The conditions range from the most serious of physical and mental trauma, to helping athletes prevent injuries. The aim of PM&R is to restore the maximum level of functionality to those afflicted by medical conditions from which complete or permanent recovery is not possible.
The most common conditions treated by PM&R are: