Knee Pain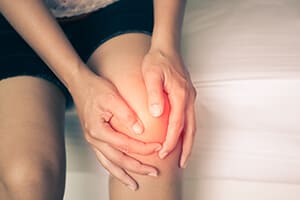 As the largest joint in the body, your knee absorbs significant stress throughout the day. Knee pain symptoms can vary, but some common manifestations are swelling, stiffness, weakness, popping, grinding, and an inability to walk without pain.
There are a wide variety of conditions that result in knee pain. Some common causes of knee pain are trauma from a serious accident (such as a torn meniscus or an ACL tear), repetitive stress, or arthritis. Athletes, people who perform physical labor, obese individuals, and older adults are at increased risk for developing knee pain.
Knee pain commonly involves more than just the structures inside the joint. It may include the tendons or ligaments outside of the joint. In order to have complete relief of pain, all of the sources of pain must be treated. If you are tired of living with knee pain after trying other forms of therapy you may be a candidate for one of our advanced regenerative treatments.
Regenerative Medicine Treatments for Knee Pain
Request Your Consultation Today!
Contact us today to find out what we can do to alleviate your knee pain, so you can get back to an active, pain-free life!