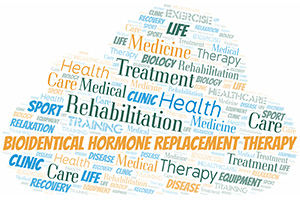 Bioidentical Hormone Replacement Therapy (BHRT) can address low or imbalanced hormones that result from perimenopause, menopause and other conditions that create hormone imbalances in women - alleviating symptoms like hot flashes, mood changes, weight gain and diminished sex drive.
To schedule your consultation with Florida's top Bioidentical Hormone Replacement Therapy specialist, complete the form below or call us at (754) 247-0122 today!
What is Bioidentical Hormone Replacement Therapy?
Bioidentical hormones are hormones designed to be molecularly identical and mimic the effect of the hormones produced by your body so that symptoms of low or unbalanced hormones can be addressed. These hormones are made from plants like yams, flax, and soybeans, and can be easily customized to fit your specific needs – without the side effects.
What Conditions and Symptoms Does Bioidentical Hormone Replacement Therapy Treat?
Hormones are biochemical messengers that help regulate metabolism, growth, and sexual response in all of your organs and tissues. Produced in your ovaries and endocrine glands – including the thymus, hypothalamus, adrenal, parathyroid, and pituitary glands – these hormones operate in perfect balance together.
An imbalance can be caused by menopause or ovary removal, treatments like chemotherapy, or other medical conditions, from primary ovarian insufficiency to pelvic injury.
Whatever the cause of your hormonal imbalance, common symptoms can include:
Hot flashes
Irregular periods
Vaginal dryness
Reduction in sex drive
Sleep irregularities
Mood swings
Increased weight
Chills
Night sweats
Diminished breast size or fullness
Slower metabolism
Dry skin
Thinning hair
Many of these symptoms will begin during perimenopause, the period leading up to menopause. As menopause is reached, there are additional health concerns that may arise, including increased risk of developing osteoporosis and heart disease. The health concerns of post-menopausal women require very specialized expertise and care – and a precise balancing of essential hormones.
Understanding How Bioidentical Hormone Replacement Therapy Works
Dr. David Borenstein, at his functional medicine clinic in Boca Raton, FL, can help you correct your hormonal imbalances by managing hormones like:
Estrogen: Deficiency can decrease bone density, heart function and libido. Many of the most common menopausal symptoms can be attributed to a decline in estrogen levels.
Progesterone: Deficiency causes headaches, mood swings, weight gain, and tender breasts.
Testosterone: Because testosterone boosts energy, bone density, muscle mass, cardiovascular maintenance and libido, a testosterone deficiency can lead to a decline in any of those areas.
DHEA: Deficiency can cause fatigue, depression, immune system dysfunction, dry skin, and low libido.
The course of BHRT treatment will vary with each individual patient. Primary treatment tools include comprehensive testing and optimizing hormone levels. With Bioidentical Hormone Replacement Therapy (BHRT), Dr. Borenstein can rebalance whatever hormonal deficiency you may be experiencing.
What to Expect at Your BHRT Session
On your first visit, Dr. Borenstein will discuss your medical history, lifestyle, daily stressors, diet, exercise habits, and current medications.
He may also conduct blood tests to determine baseline levels of various hormones. Because the sex hormones in your bloodstream are bound to carrier proteins, they may be unavailable to target tissues, and not detectable in a blood test. For that reason, he may test your saliva to measure bioavailable hormones (the amount that your tissues are able to absorb). From your urine sample he may detect both free and total levels of all three types of estrogen. This test also shows how well you're metabolizing and detoxifying your estrogen, progesterone, and testosterone.
Once he understands your exact levels, Dr. Borenstein will prescribe a customized amount of estrogen and testosterone in the form of a transdermal cream that you'll apply to your thighs or arms. This delivery form avoids the first-pass to the liver.
Your progesterone and DHEA may be delivered in either cream or capsule form. It may take a while to determine the appropriate form and dose for your body, as every woman's skin and digestive track absorbs supplements differently.
For the vaginal dryness that accompanies menopausal changes, or to combat chronic yeast infections, Dr. Borenstein may also prescribe intravaginal bioidentical estrogen, which you will need to apply exactly as directed.
As with any medical treatment, results of BHRT Therapy will vary from patient to patient, depending on age, genetics, environmental conditions, and other health factors. Tobacco users and heavy alcohol drinkers may not experience the full range of BHRT benefits.
If you are struggling with symptoms of hormone imbalance, working with a doctor who understands the complexity of hormonal transitions and women's reproductive health is critical. At Manhattan Integrative Medicine in Boca Raton, FL, we offer the most up-to-date testing and BHRT treatment so you achieve comfort, renewed health and freedom from troublesome symptoms and health risks.
We recommend that you prepare a list of symptoms prior to your first consultation.
Request Your Consultation Today!
Dr. David Borenstein is a top functional medicine practitioner in Florida who recognizes that each patient requires a treatment regimen tailored to her individual health profile and specific symptoms.
For over 20 years, Dr. Borenstein has been helping women thrive throughout perimenopause and post-menopausal years, with plant-based Bioidentical Hormone Replacement Therapy - the safest, most natural form of hormone replacement therapy available to help boost your energy, memory, and libido, while lowering your risk of osteoporosis and cardiovascular disease.
To schedule your consultation with Florida's top Bioidentical Hormone Replacement Therapy specialist, complete the form below or call us at (754) 247-0122 today!
---
Serving patients in Boca Raton, West Palm Beach, Jupiter, Boynton Beach, Delray Beach, Parkland, Deerfield Beach, Pompano Beach, Coconut Creek, Coral Springs, Fort Lauderdale, Weston, Hollywood, Pembroke Pines, Aventura, Miami and the surrounding Palm Beach, Broward and Dade County, Florida communities.