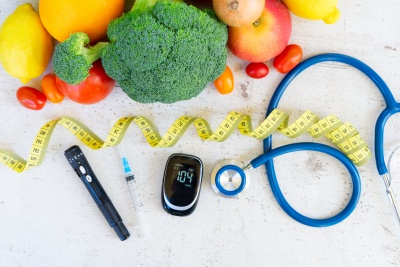 Over one-third of American adults struggle with Metabolic Syndrome. In recent years, the syndrome and its connection to the development of diabetes, stroke and heart disease has been widely publicized. But did you know that having Metabolic Syndrome also puts you at higher risk for colon cancer, non-alcoholic fatty liver disease (NAFLD) and liver cancer?
While there is much discussion in medical circles about how Metabolic Syndrome develops, it is often viewed as an intractable medical condition that is not easily reversed - but here at Manhattan Integrative Medicine, we have seen great success with our patients. To schedule your consultation with Florida's top Metabolic Syndrome specialist, complete the form below or call us at (754) 247-0122 today!
What is Metabolic Syndrome?
Metabolic Syndrome is a grouping of health conditions that - taken together or in isolation - can increase your risk of heart disease, stroke and type 2 diabetes. The cluster of conditions typically includes obesity (especially abdominal obesity), low HDL and high triglyceride levels, high blood pressure, and impaired fasting glucose. The average age of onset is 54 – plus or minus 11 years younger or older.
Causes of Metabolic Syndrome
Metabolic Syndrome can be caused by a variety of factors, including:
Aging
Genetics
Being overweight
Smoking
Excessive alcohol use
Drug-induced Metabolic Syndrome (e.g., antipsychotic drugs that induce weight gain and Metabolic Syndrome)
Lack of sufficient or appropriate exercise
Insulin resistance
New research is also pointing to conditions such as fatty liver, ovarian cysts, gallstones, and sleep apnea as possible contributing factors as well. There has also been research into whether Metabolic Syndrome could be connected to autoimmune disease.
Low-level inflammation throughout the body is often seen in people with Metabolic Syndrome, but research has yet to conclude if this is a contributory cause of the condition or results from the condition. Excessive blood clotting, similarly, is often seen in people with Metabolic Syndrome, but it has not been established whether it is a cause or symptom of the syndrome.
Recently, increased serum uric acid (SUA) levels are being discussed as a potentially causal factor in Metabolic Syndrome. These increased SUA levels are commonly seen in patients with metabolic syndrome and were already widely accepted as risk factors for conditions like gout, hypertension, cardiovascular disease, NAFLD, and chronic kidney disease (CKD) – related to inflammation and increased oxidative stress. Research is examining the relationship between gut bacteria and Vitamin D as possible factors that might be helpful in lowering SUA levels and positively impacting Metabolic Syndrome.
Risk Factors for Metabolic Syndrome
Among men and women of Caucasian descent, the risk of developing Metabolic Syndrome is roughly equal. Those of Hispanic and African American descent are more at risk, and among these groups, the women are more likely to contract this condition.
Symptoms of Metabolic Syndrome
Three or more of the following symptoms indicate the existence of Metabolic Syndrome:
A waist circumference of 40 inches and above for men and 35 inches and above for women
Low HDL cholesterol of under 40 mg/dL for men and under 50 mg/dL for women
Triglycerides of over 150 mg/dL for both men and women
Blood pressure higher than 130/85 mmHg
Fasting blood sugar of 100mg/dL or higher
Treatment for Metabolic Syndrome
Fortunately, many of these conditions can be controlled with lifestyle changes. At Manhattan Integrative Medicine, we offer creative root-cause approaches to treating these hard-to-treat conditions – and we develop a keen understanding and a treatment plan that addresses the wholeness of who you are.
While treatment efforts generally focus on lifestyle factors, a comprehensive health evaluation can help us to understand what is causing the complex array of health issues that has led to the development of Metabolic Syndrome specifically for you. For instance, some medications can cause weight gain or other conditions in the Metabolic Syndrome cluster – and some medical conditions can do the same.
For instance, if you have Hypothyroidism that has caused weight gain, treating your thyroid may help you to normalize your weight. Or if a medication is causing weight gain or increasing your blood pressure, replacing that medication could be quite helpful in addressing your Metabolic Syndrome.
We can dramatically impact Metabolic Syndrome with the following treatment approaches, including:
Personalized healthy movement plan with specific types (and durations) of exercise that are appropriate for you
Nutritional Counseling and Targeted Dietary Changes
Smoking Cessation
Stress Management
Supplements, vitamins and herbs
Probiotics and prebiotics to balance the microbiome
Request your consultation today.
Dr. David Borenstein is a top functional medicine practitioner in Florida who recognizes that each individual patient requires a treatment regimen tailored to an individual health profile and specific symptoms. Dr. Borenstein has an established history of helping his patients overcome Metabolic Syndrome.
Don't transition through your health challenges alone. New treatment options can have a profound effect on your health and potentially deadly conditions like Metabolic Syndrome. Call Manhattan Integrative Medicine in Boca Raton FL at (754) 247-0122 for an initial phone consultation, or complete our quick online form.
---
Serving patients in Boca Raton, West Palm Beach, Jupiter, Boynton Beach, Delray Beach, Parkland, Deerfield Beach, Pompano Beach, Coconut Creek, Coral Springs, Fort Lauderdale, Weston, Hollywood, Pembroke Pines, Aventura, Miami and the surrounding Palm Beach, Broward and Dade County, Florida communities.