BHRT for Women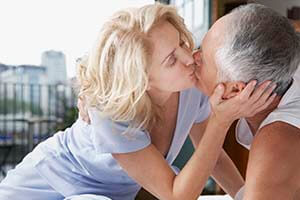 The physical, mental and emotional roller coaster ride of menopause doesn't have to drive your lifestyle and life's joy.
Just because your ovaries have stopped releasing eggs doesn't mean mood swings, hot flashes, diminishing bone density, heart disease risk, low libido, and vaginal dryness have to rule your world.
Just because you're 45 – 55 years young doesn't mean your testosterone, estrogen, progesterone, and DHEA levels have to suddenly drop and drain you of energy and fun.
Instead of sitting around wondering how many hot flashes per day are normal, you should be asking yourself which hormones need to be supplemented in order to stop those hot flashes in their tracks.
For decades, Dr. Borenstein has been helping women thrive in their post-menopausal years, with plant-based, non-invasive Bioidentical Hormone Replacement Therapy (BHRT). This is the safest, most natural form of hormone replacement therapy available to help boost your energy, memory, and libido, while lowering your risk of osteoporosis and cardiovascular disease.
Only Manhattan's top functional medicine doctor can safely and effectively stop your rollercoaster ride, and let you drive your life again. Schedule your BHRT consult at ☎ (212) 262-2412 or contact us here and see for yourself!
Symptoms and Root Causes of Hormone Imbalance
You're likely to have a menopausal hormone imbalance if you're between the ages of 45 and 55 and struggle with:
fatigue
irritability
brain fog
weight gain
night sweats
hair loss
dry skin
low bone density
low libido
insomnia
depression
hot flashes
vaginal dryness
breast tenderness
Dr. Borenstein has spent 20 years not only relieving these symptoms, but targeting their root causes – which can often be complex.
How Does BHRT Rebalance Your Hormones?
Your hormones are the biochemical messengers produced in your ovaries and endocrine (thymus, hypothalamus, adrenal, parathyroid, and pituitary) glands. Because hormones help regulate your metabolism, growth, and sexual responses in all of your organs and tissues, an imbalance can have whole body consequences.
Bioidentical hormone replacement therapy delivers hormones that are molecularly identical to the hormones that your body produces – so they fit perfectly into your hormone receptor locks. These hormones are made from plants like yams, flax, and soybeans, and can be easily customized to fit your specific needs – without the side effects.
Dr. Borenstein can help you correct your menopausal imbalance by managing your:
estrogen: levels drop, taking bone density, heart function and libido with them
progesterone: deficiency causes headaches, mood swings, weight gain, and tender breasts
testosterone: boosts energy, bone density, muscle mass, cardiovascular maintenance and libido
DHEA: deficiency can cause fatigue, depression, immune system dysfunction, dry skin, and low libido
What to Expect at Your BHRT Session
During your first visit, Dr. Borenstein will discuss your medical history, lifestyle, daily stressors, diet, exercise habits, and current medications.
Then, he may do a blood test to determine your baseline levels. Because the sex hormones in your bloodstream are 95-99% bound to carrier proteins, they may be unavailable to target tissues, and not detectable via blood test. He may test your saliva to measure bioavailable hormones (the amount that your tissues are able to absorb). From your urine sample he may detect both free and total levels of all 3 types of estrogen. This test also shows how well you're metabolizing and detoxifying your estrogen, progesterone, and testosterone.
Once he knows your exact levels, Dr. Borenstein will prescribe a customized amount of estrogen and testosterone in the form of a transdermal cream that you'll apply to your thighs or arms. This delivery form avoids the first-pass to the liver.
Your progesterone and DHEA may be delivered in either cream or capsule form. It may take a while to determine the appropriate form and dose for your body, as every woman's skin and digestive track absorbs supplements differently.
For the vaginal dryness that accompanies menopausal changes, or to combat chronic yeast infections, Dr. Borenstein may also prescribe intravaginal bioidentical estrogen, which you will need to apply exactly as directed.
As with any medical treatment, results of BHRT Therapy will vary from patient to patient, depending on age, genetics, environmental conditions, and other health factors. Tobacco users and heavy alcohol drinkers may not experience the full range of BHRT benefits.
Request Your Appointment!
Your hormones don't have to send you on a rough ride during your well-deserved golden years. Natural hormone deficiency requires a therapy that's reliable, convenient, and designed specifically for you – precisely what Manhattan's top functional medicine doctor delivers. Call Dr. Borenstein at at ☎ (212) 262-2412, or contact us here.