Nutritional Counseling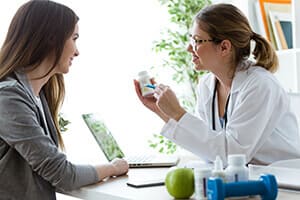 The effectiveness of many therapies, especially those that affect the endocrine system, is reliant on a foundation of proper nutrition. Manhattan Integrative Medicine advocates a holistic approach that enhances the likelihood of success by developing nutrition plan that take into consideration the body type, lifestyle, preferences and goals of the individual.
If you've unsuccessfully tried one type of diet after another, maybe it's time to step back and allow our certified health and nutrition coach develop a customized nutrition plan for you.
Plan development includes looking at the relationship individuals have with the foods they eat. For instance, do you overeat because of stress? Or have hormone imbalances left you so sleepless and fatigued that you can't bring yourself to work off the calories you consume through exercise?
Through a collaborative process, we help individuals understand the relationship between food and health. Rather than concentrating on mealtime don'ts that makes taboo foods more attractive, we helps individuals find the happy medium that allows them to reduce food cravings while savoring, in moderation, the healthy foods they love.
Working with us, individuals learn about the following:
Bio-individuality™
This principal takes into consideration individuals' unique nutritional needs based on their anatomy, metabolism, age, gender and lifestyle. In addition, bio-individuality considers their genetic inheritance influenced by ethnicity that affects how they digest certain foods, such as lactose intolerance or food allergies.
Primary Food™
We often overlook the things that contribute to our sense of nourishment and fulfillment. Healthy relationship, romance, fulfilling career and regular exercise are primary forms of nourishment. When these "primary foods" are in balance, what you eat becomes secondary.
Integrative Nutrition Pyramid™
The Integrative Nutrition food pyramid balances high quality vegetables, fruits, grains, proteins, healthy fats and water. To complete the picture, the pyramid is surrounded with lifestyle factors that create optimal health: relationship, career, physical activity and spirituality.
Our personalized coaching program includes:
two 50-minute sessions per month
e-mail support between sessions
simple and healthy recipes
lifestyle and dietary support and coaching
informative handouts on nutrition
access to monthly newsletter filled with health tips and recipes