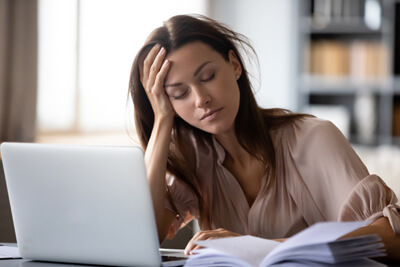 Most of those who contract COVID-19 will recover completely within a few weeks. But some – even those with milder cases – may continue to suffer from symptoms long after COVID-19 has left their bodies. Those who fall into this category are often referred to as "long haulers" or those who have "long COVID-19."
If you've had COVID-19 and are still experiencing symptoms, know that help is here. Dr. David Borenstein at Manhattan Integrative Medicine specializes in treatment for your post-COVID-19 symptoms.
To schedule your consultation with Florida's top post Covid care specialist, please call (561) 448-6650 today!
Symptoms of Long COVID-19
Common symptoms that linger after a COVID-19 diagnosis can include:
Fatigue
Exertion
Difficulty breathing or shortness of breath
Coughing
Joint, muscle, or chest pain
Headaches
Challenges with memory or concentration
Muscle fatigue
Muscle aches
Brain fog
Sleep problems
Depression or anxiety
Dizziness after standing
Many of these symptoms have striking similarities to the symptoms of two other chronic conditions – chronic fatigue syndrome (CFS) and fibromyalgia.
Chronic Fatigue Syndrome
CFS is also known as myalgic encephalomyelitis (ME). It's a condition where a person feels persistent, excessive fatigue no matter how much rest they get. They may also feel muscle aches, brain fog, bloating, or low libido.
Fibromyalgia
CFS also shares symptoms with fibromyalgia. This is a long-term chronic condition that can cause severe pain, muscle stiffness, brain fog, restlessness, and depression.
When it comes to COVID-19 long haulers, the most prevalent symptoms are exhaustion and chronic fatigue.
How Can COVID-19 Patients Develop Chronic Fatigue?
We're still studying the precise reasons why fatigue may linger. Studies suggest that it may have to do with your body's immune response to initially contracting COVID-19.
When your body fights a virus, your immune system releases chemicals called cytokines. These promote inflammation to help fight the infection. They're also the reason for some of the common symptoms you feel, like tiredness or body aches.
This immune response normally stops once your body has defeated the virus. But recent research shows that the level of cytokines may not return to normal after the COVID-19 virus leaves your body. The build-up of these cytokines can then cross your blood-brain barrier and affect your hypothalamus – the area of your brain that regulates systems, including sleep.
How to Treat Chronic Fatigue Due to COVID-19
At Manhattan Integrative Medicine, Dr. Borenstein offers treatments that can help relieve your post-COVID-19 symptoms. This includes creating a customized treatment plan using the highly successful S.H.I.N.E.® Protocol. Your treatment plan may include:
Helping You Sleep. Having restful sleep is crucial for treating chronic fatigue. Dr. Borenstein will look at your sleep routines and provide support recommendations, such as a sleep schedule, medications, or aides.
Addressing Your Adrenals and Hormones. In the SARS epidemic, many patients ended up developing adrenal insufficiency. This caused significant amounts of fatigue. Dr. Borenstein will test your adrenals using a blood, saliva, or urine test.
Balancing Your Vitamin and Nutrient Levels. Supplement therapy may be used to treat vitamin imbalances in your body. Dr. Borenstein may also recommend supplements, like melatonin, to improve your sleep.
Providing IV Vitamin C. Intracellular oxidative stress could be a potential cause behind some of your lingering symptoms. Delivering vitamin C directly into your bloodstream may help calm your body's overactive inflammatory response.
Inhaled Glutathione. Glutathione is a powerful antioxidant within your body. Inhaling it through a nebulizer can also be effective in fighting against oxidative stress.
Strengthening Your Immune System Through Stem Cells. Patients who have an overactive immune system or respiratory issues from COVID-19 may benefit from mesenchymal stem cells. These are adult stem cells that self-renew and may help improve your pulmonary function.
Request Your Consultation Today!
Having and healing from COVID-19 is stressful enough. You don't have to sffer through the long-term effects of the virus alone. Dr. Borenstein can help you find relief from your symptoms.
It all starts with a consultation. To book a time to come in, call our Manhattan Integrative Medicine in West Palm Beach, FL, at (561) 448-6650 or contact us online. We're here to help you fully recover from COVID-19.
---
Serving patients in West Palm Beach, Jupiter, Boca Raton, Boynton Beach, Delray Beach, Parkland, Deerfield Beach, Pompano Beach, Coconut Creek, Coral Springs, Fort Lauderdale, Weston, Hollywood, Pembroke Pines, Aventura, Miami and the surrounding Palm Beach, Broward and Dade County, Florida communities.